Click here to subscribe to the City's calendar via RSS.
Please read our calendar listing guidelines here.
4th of July Festival
Date:

07/04/2019 9:00 AM - 5:00 PM

Location:

Downtown Redwood City




Broadway, Courthouse Square
The Fourth of July Festival provides an opportunity for community service organizations to raise funds buy selling food, merchandise or giving out information on their organization. There are also arts and craft booths and entertainment for the thousands of people that attend the festival immediately after the parade.
The Peninsula Celebration Association i proud that the members of the organization have operated the Peninsula Celebration Association since 1939 as a true volunteer group. Their goal is to help make our City not just a place to live, but a real community of people who care!!
Schedule of Events
Downtown Activities, 9 a.m. - 5 p.m.
Arts & Crafts, Booths on Jefferson
Community Service and Information Booths on Broadway
Food Court, Beer & Wine
Kid's Stage on Broadway - Phil Ackerley the Magician 11:30 a.m., 1 p.m., 2 p.m., 3 p.m.
Clown at Jefferson Avenue
Face Painter at Broadway & Middlefield
Battle of the Bands on Hamilton - Stanford vs. UC Davis 1 - 3 p.m.
Arts & Crafts Booths
Presented by California Artists, there is a wide variety of items, all hand-crafted by talented artists that are available for purchase. Items include paintings, fine jewelry, pottery, clothing, flower arrangements, woodcrafts, sculpture, toys & more.
Battle of the Bands
Featuring the bands of UC Davis and Stanford, the Battle of the Bands start at 1 p.m. on Hamilton Street.
Food and Beverages
This area is located on Middlefield. Support your favorite local non-profit organization. Many of the non-profit organizations in the area use this event as a major fund-raising opportunity. Much of their revenue for the year will come from this event. See the location of all the yummy food.
Chalk Festival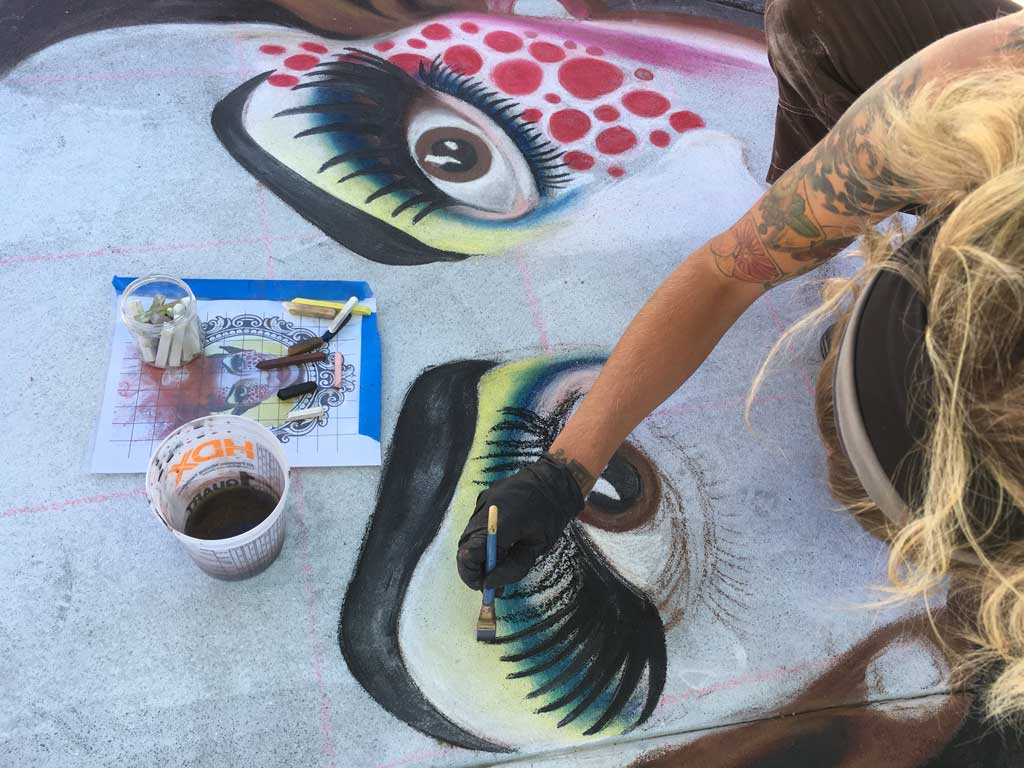 Join the artists on Courthouse Square and Chalk Alley at one of the newest additions to festival, Chalk Full of Fun on the Square. Artists of all levels will be creating their masterpieces on July 3 and 4.
Kids Area
One of the truly exciting parts of the Independence Day Festival is the Kids Area. The Kids Area is a safe and sane haven for parents and children of all ages.
Information Booths
Located along Broadway, find out information about local organizations.
Return to full list >>